Welcome to Pennsylvania Newsmakers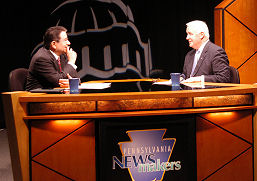 Pennsylvania Newsmakers is the state's premier politics and public policy interview and commentary television show. Television programs with public policy and politics content typically have small, but qualitatively important television audiences, but in the Harrisburg/Lancaster/York/Lebanon television market—where it can be seen at 7:30 A.M. on WGAL—Pennsylvania Newsmakers continues to maintain substantial viewership and holds a strong competitive audience advantage over Face The Nation, This Week, Fox News Sunday, and Face the State. It is only exceeded in viewership in the market by Meet The Press.
We discuss the important issues with the state's leading decision-makers, policy analysts, journalists, and political commentators each week, focusing on policy issues and political battles that are at the top of Pennsylvania's agenda. More About Pennsylvania Newsmakers
Latest Shows
Sponsors & Studio
Pennsylvania Newsmakers
is produced at
JPL Studios
in Harrisburg, PA.