About Pennsylvania Newsmakers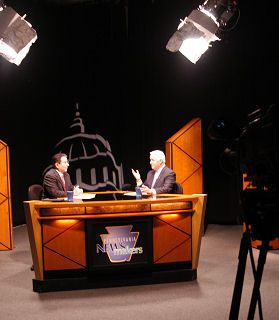 The Pennsylvania Newsmakers Studio
Pennsylvania Newsmakers is the state's premier politics and public policy interview and commentary television show. Television programs with public policy and politics content typically have small, but qualitatively important television audiences, but in the Harrisburg/Lancaster/York/Lebanon television market—where it can be seen at 11:30 A.M. on WGAL—Pennsylvania Newsmakers continues to maintain substantial viewership and is the most watched Sunday talk and commentary program in the market, ahead of Face The Nation, This Week, Fox News Sunday, Face the State, and Meet The Press.
We discuss the important issues with the state's leading decision-makers, policy analysts, journalists, and political commentators each week, focusing on policy issues and political battles that are at the top of Pennsylvania's agenda.
The host/moderator of the show is Dr. G. Terry Madonna, Director of the Center for Politics and Public Affairs at Franklin and Marshall College. In addition to hosting Pennsylvania Newsmakers, Dr. Madonna has provided political commentary on many media outlets across Pennsylvania including KYW-TV in Philadelphia and WGAL-TV in Lancaster.
Our recent shows have featured top advisors and cabinet members with both the Rendell and Corbett administrations, including Governor Corbett himself and former Governor Rendell as both a guest and a guest-host. Other shows have featured Senator Arlen Specter, Senator Bob Casey, and Senator Pat Toomey, as well as former Senator Rick Santorum and Auditor General Jack Wagner.
Pennsylvania Newsmakers airs on the following networks around the state:
WGAL Channel 8 (Harrisburg and Lancaster): Sundays at 11:30 AM
WBPH (Lehigh Valley and Philadelphia): Mondays at 8:30 PM
WLYH (Harrisburg, Lebanon, York): Mondays at 8:30 PM
WKBS 47 (Altoona): Saturdays at 9:30 AM
WPCB 40 (Pittsburgh): Saturdays at 9:30 AM
MeTV (Susquehanna Valley): Sundays at 9:30 AM